American Legion Post 449 Honor Guard
Our members of this elite team are all veterans who have served our Country.
We have two units The Honor Guard & The Color Guard
Our Post 449 Honor Guard is proud to be able to provide a ceremonial honor guard unit for all requested Military Honors Funerals. Escorting a fallen hero to a final resting place is considered one of the highest forms of respect. We will be present at any Church, Chapel, Funeral Home or Cemetery to conduct the proper Military Honors to a fallen hero and family Members. By law, a military funeral with honors is offered for any veteran when requested by family members. We will provide a full military honors ceremony, including a 7 person, 3 gun volley salute and we will provide a bugler to play "Taps", in addition to providing a ceremonial folded flag, ceremonial coin from the State of Wisconsin, Department of Veterans Affairs and a special Post 449 embroidered pouch which will contain the spent cartridges, along with a sympathy card, from our Post. Our Honor Guard members can also serve as pallbearers, at the request of the family.
Our Post 449 Color Guard Unit is also proud to be able to present our National Colors at all events which are requested of them. If requested, our Post 449 will supply a Color Guard Unit to present the colors for most occasions. This unit, along with the Honor Guard Unit will participate in all designated parades, including Veteran's Day. We are a ceremonial team and march with pride, to display our military service flags. Our Honor Guard Team is proud to serve you.
God Bless America and all of our servicemen.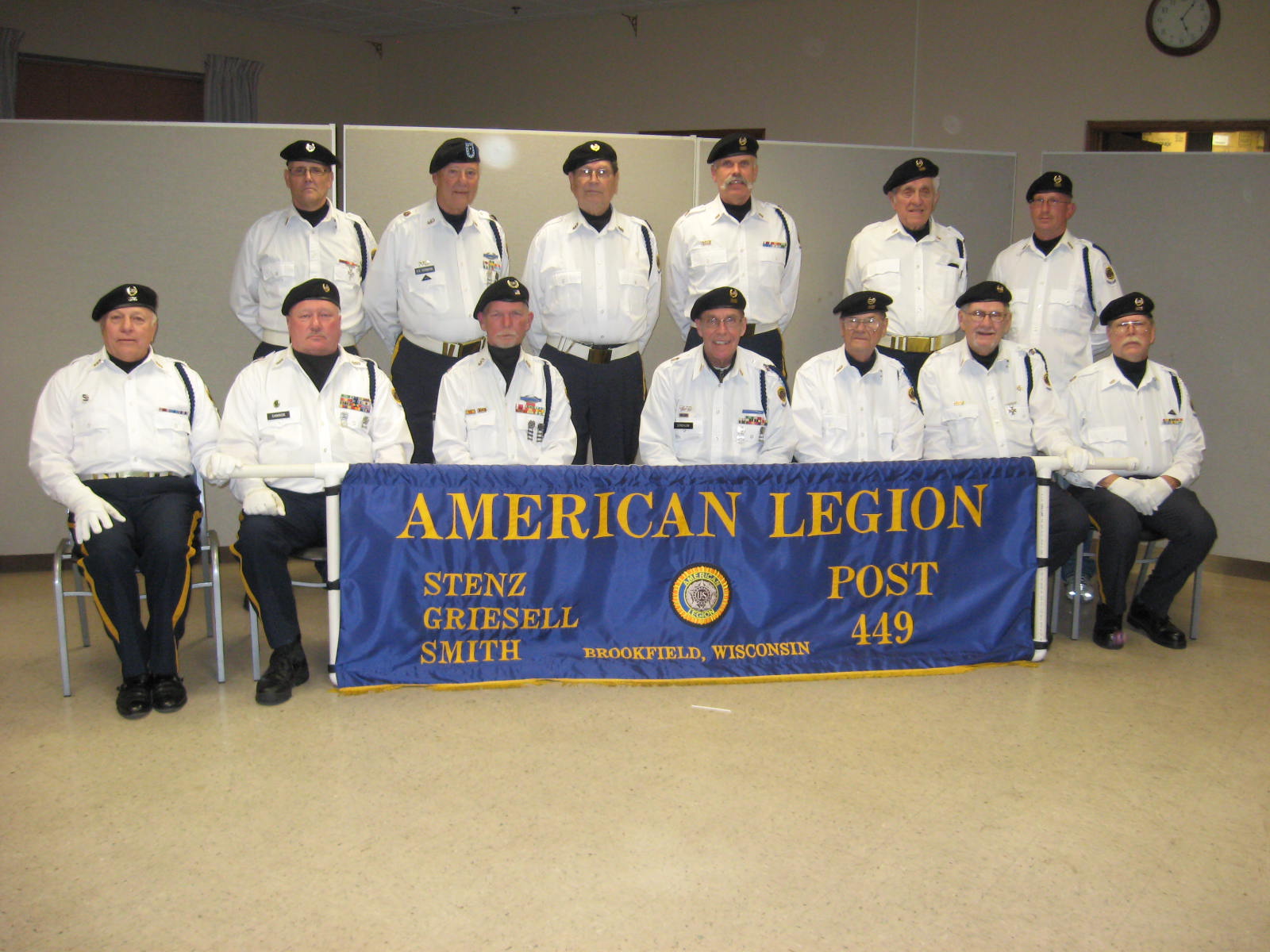 Top Row: Robert Brurok, Frank Sternisha, Wallace Engel, Charles Cera, Jack Draak, Ryan Schaekel.
Bottom Row: Rodney Haines, Michael Cannon, Gordon Schaber, Richard Strehlow, Chet Salmela, Charles Ross, Fredrick Withrow.
Not Pictured: Ralph Fernhaber, Lyle Krueger, Peter Schiller.
POST 449 MILITARY HONOR GUARD MEMBERS
Service Officer – Richard Strehlow
Asst. Service Officer – Gordon Schaber
Advisor (for V.A. Affairs) – Ken Lamster
Armorer – Dennis Meyers
Uniforms & Supplies – Wallace Engel/Richard Strehlow
RIFLEMEN
Bob Brurok
Mike Cannon
Max Dietz
Jack Draak
Wallace Engel
Ralph Fernhaber
Rod Haines
Ken Lamster
Dennis Meyers
Charles Ross
Chet Salmela
Gordon Schaber
Ryan Schaekel
Pete Schiller
Frank Sternisha
Richard Strehlow
Fred Withrow
Jim Young